When on the road, there are countless things and situations that can hinder your productivity – bad sleep, little to no exercise, irregular schedules, limited resources, and eventually – more stress. On the other hand, remote work gives you a great chance to explore the unknown parts of the world while still doing the job you love.
Thanks to modern digital communication tools, you can now carry your work with you, but it's easier said than done because staying productive on the road can be quite challenging. This requires you to change your approach to work, with renewed intention and purpose, maintain your productivity and focus more than when you used to work from home. Here's how you can stay productive while traveling.




1. Stick to your routine
Working from home allowed you to have a loose daily routine, and you were flexible enough to organize your day as you wanted. Some people don't like having a routine because they think that the mundanity of it will get them bored. However, this can make you very unorganized, which can mess with your on-the-road experiences. So, give your best to put together a daily schedule that will help you stay on track with everything you need to get done. Start with the tasks that require the most brain power or things you want to do least, just to get them out of the way. Then you'll be left with some easy tasks that you can finish faster, and have the rest of the day for yourself.
2. Find a coworking space
Coworking spaces are flourishing all over the world, making things easier for working travelers, such as yourself. These places are frequently used by digital nomads, whether it's a regular shared space like NY based ones or fully equipped serviced office like this one in Sydney. Coworking spaces are all-inclusive, providing you with a space for work, a reliable Internet connection, an increased sense of community, decreased sense of isolation, chance to work at a high-quality office that's out of your budget, and expand your personal/business connections.
Finding the space and time for work can be very challenging when you're a remote worker surrounded by people who simply want to have fun all day. When everyone around you is headed to the next sight, while you have to work, it's easy to feel frustrated. In coworking spaces, you are surrounded with working individuals that inspire you to focus on your work and do your best.
3. Bring your pillars of stability
As a traveler, you frequently change your residence – a spare room at your host from Couchsurfing, an Airbnb, or a hotel. Because you change places often, you need to learn how to feel like home quickly. Having a personal pillar of stability can help you with that. It can be an item that's not necessary for traveling, but can help you recharge and feel like home. For example, bring packs of your favorite noodle soup, favorite pillowcase, brand of coffee and coffee mug, or your annoyingly precious alarm clock that your partner gave your years ago. Think about what your pillars are.
Related:Running Remote Conference 2018.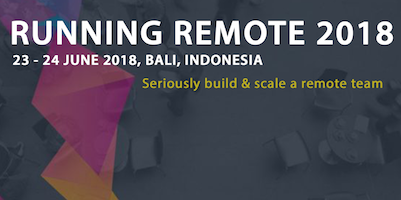 4. Control your environment
The environment can become difficult to control and pretty unpredictable while you're on the road. For example, you want to write a blog article and you've been trying for the last hour, but you're traveling with a family of foreigners with three annoying kids that keep disrupting your focus. We recommend you to get a pair of noise-cancelling headphones and play some music to be able to disconnect from the noisy environment.
5. Keep a healthy lifestyle
An unhealthy lifestyle can steer you off the productive path and bring you down faster than you thought it could. It is imperative that you stay active every day, eat balanced meals, drink enough water, and indulge a little. Daily workout is necessary to get the positive energy and endorphins required for keeping the productivity up, while water and healthy food will fuel your body so you can get everything done.

After managing to keep your productivity at the right level, it's also important to take time for yourself. We know that you need to work, but life moves fast and if you don't take time for yourself, you'll miss it. Set aside enough time to explore the part of the world you're traveling, enjoy yourself, and relax. You'll decompress and be ready to go hard when it's time to work again.
Like This Blog? Share On Pinterest!