Vacant commercial buildings can pose a variety of challenges for property owners and managers. From vandalism to deterioration, these buildings can quickly become a liability if not properly maintained. However, with the right approach and strategies, it's possible to keep these buildings in good condition and protect them from damage. So, here are some tips and practices for maintaining vacant commercial buildings.
Conduct regular inspections
To properly maintain vacant commercial buildings, conducting regular inspections is key. These inspections should be thorough and cover both the interior and exterior of the building, as well as any surrounding areas. By identifying potential issues or areas of concern early on, property owners and managers can take action before they become larger problems that are more costly and time-consuming to address. In addition, regular inspections can help property owners and managers stay on top of necessary repairs and maintenance, ensuring that the building stays in good condition over time.
Secure the building
Securing a vacant commercial building is crucial for preventing unauthorized access and keeping it safe from vandalism or theft. Property owners and managers should take steps to install security systems, lock all doors and windows, and even board up certain areas of the building if necessary. This helps deter potential trespassers and sends a message that the building is being actively monitored and protected. In addition, having a secure building can help property owners and managers avoid costly damage or theft, which can be especially important if the building is going to be vacant for an extended period of time.
Keep the building clean
Keeping a vacant commercial building clean is important for several reasons. For one, it helps prevent damage and deterioration caused by dirt, dust, and debris. Regular cleaning can also help identify potential issues, such as leaks or damage to surfaces. In addition, a clean building can help make a positive impression on potential tenants or buyers, as it demonstrates that the property is being actively maintained and cared for. This is why checking out rope access services might help you handle this issue easily and quickly, which is something all building managers are hoping for.
Maintain utilities
Even if a building is vacant, it's important to keep its utilities maintained. This includes things like heating, ventilation, and air conditioning systems, as well as plumbing and electrical systems. Maintaining these systems helps prevent damage to the building and ensures that it is ready for use when needed. For example, failure to maintain the HVAC system could result in damage to the building from moisture or mold growth. In addition, keeping utilities up-to-date can help ensure that the building is in compliance with local building codes and regulations.
Address pest control
Pest control is an important consideration when maintaining vacant commercial buildings. Without regular cleaning and upkeep, pests such as rodents, insects, and birds can quickly take over a building. This not only creates health hazards but can also lead to damage and destruction of the building. Property owners and managers should take steps to address pest control issues, such as regularly cleaning and disinfecting the building and sealing any entry points that pests could use to gain access.
Monitor weather conditions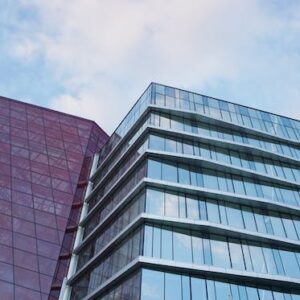 Weather conditions can have a significant impact on vacant commercial buildings. For example, heavy rain or snow can cause water damage, while extreme temperatures can lead to freezing or thawing of pipes. Property owners and managers should monitor weather conditions and take appropriate precautions to protect the building. This could include things like sealing any leaks or gaps in the building envelope, insulating pipes to prevent freezing, and trimming trees or bushes that could pose a hazard during severe weather events.
Maintain landscaping
If a building has surrounding landscaping, it's important to keep it well-maintained. This can include things like mowing the grass, trimming trees and shrubs, and removing any dead or diseased plants. Keeping the landscaping in good condition not only enhances the appearance of the building but can also help prevent damage from falling branches or overgrown plants. In addition, maintaining the landscaping can help attract potential tenants or buyers, as it demonstrates that the property is being actively cared for.
Properly maintaining vacant commercial buildings requires a proactive approach and attention to detail. By taking these steps, property owners and managers can help ensure that their buildings remain in good condition and are ready for use when the time comes. Additionally, proper maintenance can help prevent damage, reduce the risk of legal liability, and increase the value of the property.