Traveling in a camper van is an exciting way to explore the world, offering both convenience and flexibility. With the freedom to go where you want, when you want, a camper van can take you to places you may not have thought possible. As we enter 2023, more and more people are turning to camper van travel as a way to get away from the crowds and enjoy the great outdoors. But, before you hit the open road, it's important to be prepared. From packing the right gear to knowing where to park, there are a few key things to keep in mind.
Plan your route
Before you hit the road, take the time to plan out your route. This will not only help you make the most of your time but also ensure that you don't miss out on any must-see attractions along the way. When planning your route, consider taking scenic routes, national parks, and other interesting destinations that you can visit along the way. Make sure to factor in the driving time, rest stops, and any other activities you want to do. You can use online mapping tools to help you plan your route, and don't forget to check for any road closures or construction work that might affect your journey.
Invest in a good GPS
While paper maps are great, investing in a good GPS can make all the difference when you're on the road. A GPS device can help you navigate the roads easily, especially when you're driving in unfamiliar territory. Make sure to get a GPS that can handle off-road navigation and has the latest map updates. You can also consider getting a GPS app on your phone, but make sure to download the maps for offline use in case you lose service. Additionally, consider getting a backup GPS device like a compass or a handheld GPS in case your primary device malfunctions.
Stay safe on the road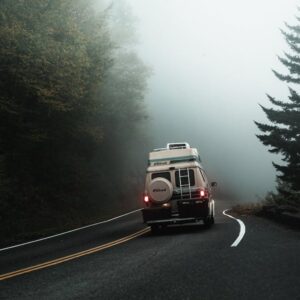 Driving a camper van requires some adjustments compared to driving a regular car. Make sure to take your time and drive cautiously, especially on narrow or winding roads. Be aware of your vehicle's height and weight restrictions and watch out for low-hanging branches or bridges. Always wear your seatbelt and avoid distracted driving. Make sure to take breaks often to rest and stretch your legs. Also, make sure you get adequate motorhome insurance and stay safe on the road, no matter where you go and how long you're traveling.
Pack smart
When it comes to packing for a camper van trip, less is often more. Stick to the essentials, and make sure to bring plenty of layers for changing weather conditions. Make a list of the items you need to pack and check them off as you go. Don't forget to bring a first aid kit, bug spray, sunscreen, and any medications you need. Pack food and water, and bring reusable water bottles to refill on the road. Additionally, consider bringing a portable stove or grill to cook meals on the go.
Bring entertainment
Long hours on the road can be boring, so make sure to bring plenty of entertainment options. Books, board games, and a deck of cards are great options. You can also download movies and TV shows to watch offline. Bring a Bluetooth speaker to listen to music and podcasts. Additionally, consider bringing binoculars, a camera, or a telescope to enjoy the views and capture memories of your trip.
Know where to park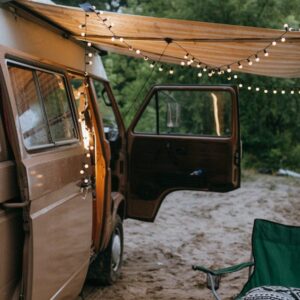 One of the biggest challenges of camper van travel is finding a place to park. Make sure to research your options ahead of time, and be prepared to boondock if necessary. There are many apps and websites to help you find places to park, such as campgrounds, RV parks, and rest areas. Always be respectful of private property and follow any posted rules and regulations. You can also consider parking in national parks or forests, but make sure to check the rules and regulations for camping in these areas.
Consider a solar panel
If you plan on doing a lot of off-grid camping, a solar panel can be a great investment. It can help you keep your batteries charged, allowing you to stay off-grid for longer periods of time. Solar panels come in various sizes and types, so choose one that fits your needs and budget. You'll also need to get a charge controller and an inverter to convert the power from the solar panels into usable electricity.
Be prepared for emergencies
When you're traveling in a camper van, emergencies can happen. Make sure to have a plan in place and be prepared for things like a flat tire or a medical emergency. Keep a fully stocked emergency kit in your van at all times, including a first aid kit, fire extinguisher, spare tire, and tools for basic repairs. Also, make sure to have a communication device like a cell phone, a two-way radio, or a satellite phone in case of an emergency.
Embrace the outdoors
One of the best things about traveling in a camper van is the opportunity to immerse yourself in nature. Embrace the outdoors by planning activities like hiking, kayaking, or fishing. Bring binoculars or a field guide to identify wildlife and birds. Set up a campfire and enjoy the starry night sky. Disconnect from technology and enjoy the simple pleasures of nature. Remember to always practice Leave No Trace principles and respect the environment.
Practice good camper van etiquette
Finally, when traveling in a camper van, it's important to practice good etiquette. Respect other campers' space and privacy, and keep noise levels low during quiet hours. Follow the campground or parking area's rules and regulations, and always clean up after yourself. Leave the area better than you found it, and be mindful of your impact on the environment. Be friendly and courteous to other campers, and enjoy the camaraderie of the road.
Traveling in a camper van can be an incredible adventure that allows you to explore new places and connect with nature. By planning your route, packing smart, and embracing the outdoors, you can make the most of your trip. Be prepared for emergencies, stay safe on the road, and practice good etiquette to ensure a positive experience for yourself and other campers. With these tips in mind, get ready to hit the road and create unforgettable memories on your camper van journey.