Tattoos are an art form that has transcended generations and cultures, allowing individuals to express their unique personalities and stories through ink. However, choosing the perfect tattoo can be a daunting task, considering the myriad of designs, styles, and meanings available. Tattoo artists, being experts in this field, play a crucial role in guiding and assisting individuals in making the right choice. Their expertise can help you select a tattoo that resonates with your identity and vision, so here are the insights and advice from experienced tattoo artists to aid you in navigating the vast world of tattoos and finding the perfect design that aligns with your essence.
What's Your Passion
When embarking on a journey to get a tattoo, it's essential to start by considering what you are truly passionate about. Tattoo artists often emphasize the significance of choosing a design that holds personal meaning or significance to you. This could be related to your culture, beliefs, experiences, or even something as simple as your favorite quote or symbol. Tattoos are a reflection of who you are, and selecting a design that resonates with you will ensure a lasting connection with your ink.
Different Tattoo Styles
Understanding different tattoo styles is vital to making an informed choice. Tattooing has evolved over the years, giving rise to numerous styles, including traditional, realism, neo-traditional, watercolor, and more. Each style conveys a distinct aesthetic and message. Tattoo artists advise exploring various styles and identifying the one that aligns with your personality and desired visual appeal. By doing so, you'll narrow down your options and find a style that speaks to you.
The Placement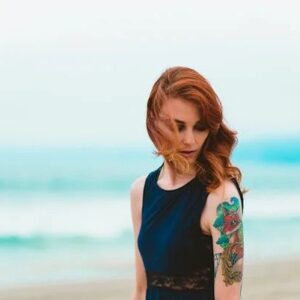 Consider the placement of your tattoo, as it significantly impacts its visibility and aesthetic. Tattoo artists often emphasize that certain designs work better on specific body parts due to variations in skin texture, shape, and movement. For instance, intricate designs might be more suited to areas with ample space, like the back or thigh, whereas smaller, simpler designs might work well on the wrist or ankle. Collaborating with your tattoo artist to choose the optimal placement will ensure a visually pleasing and well-integrated tattoo.
Don't Be Afraid to Look Around
Delve into research to familiarize yourself with various tattoo artists and studios. Reputation, expertise, and artistic style are important factors to consider when selecting an artist. Reading reviews, exploring portfolios, and seeking recommendations from friends or online communities can aid in making an informed decision. If you live in Australia, for instance, think about best tattoo places in Sydney that ensure that your tattoo is executed with precision and meets the highest artistic standards.
Insist on Open Communication
Engaging in open communication with your chosen tattoo artist is crucial throughout the tattoo selection process. Tattoo artists are not only skilled in executing designs but also in offering valuable insights and recommendations. They can provide guidance on design modifications, color choices, and sizing, tailoring the tattoo to suit your preferences and body anatomy. By maintaining a dialogue, you'll benefit from their expertise and ensure that the final tattoo aligns with your vision.
Think About Your Budget
Budget considerations are also essential when selecting a tattoo. Tattoo prices can vary based on the complexity, size, and artist's expertise. Tattoo artists recommend setting a budget beforehand and discussing it openly with your chosen artist. This allows for transparency and ensures that you stay within your financial limits while still receiving a high-quality tattoo that aligns with your vision.
Take Your Time
Lastly, be patient and take your time in the decision-making process. Rushing into getting a tattoo without thorough consideration can lead to regrets later on. Tattoo artists encourage prospective clients to take the necessary time to finalize their design and artist choice. Remember, tattoos are permanent, and it's essential to approach the process with careful consideration to ensure a tattoo that you'll proudly wear for a lifetime.
Choosing the right tattoo is a deeply personal and exciting journey that involves careful consideration of design, style, placement, communication with your chosen tattoo artist, and budget planning. With the expert guidance of experienced tattoo artists, you can navigate this creative realm and find a tattoo that embodies your individuality and tells your unique story. By following these guidelines and embracing the wisdom of tattoo artists, you'll embark on a meaningful tattoo journey that results in a beautiful and timeless piece of art.